Where Inspiration Meets Intention
Formerly a sprawling paved parking lot dotted with concrete buildings, Jackson Apartments is comprised of two sustainable, mixed-income apartment buildings divided by a wide-open green space. A previously vacated street right-of-way, this area was reimagined as a landscaped public pathway that provides pedestrian access, stormwater management infrastructure, and habitat for native pollinators.
In addition, a 12,000 square-foot plaza offers space for celebrations and performances while multiple micro retail kiosks are designed to allow homegrown businesses to take root. Unique patterns, textures, and artwork are woven into the landscape and the base of the building, providing cultural context.
The expansive 3.6-acre site features a wide variety of shops and services, abundant seating, green space, and common areas populated with intentionally-curated public artworks to reflect the cultural vibrancy of the neighborhood and elevate the resident experience.
Urban Living in the Central Area
From the art on the walls to the carved-out spaces for community, every nook, cranny, and decorative detail has a story here. The design was informed by extensive input from the local community and prioritizes connections and inclusion.
Building Features
Extensive co-working spaces
Premier fitness facility
Two rooftop lounges
Grilling stations
Pet relief area
Pet lounge and wash stations
Makers room
Bicycle storage and repair room
Secure storage units
Self-service package lockers with text notifications
Home Features
City and Mt. Rainier views*
Open concept living areas
Soft-close cabinetry
Quartz countertops
Private patios*
Air conditioning or A/C window ports
Walk-in closets*
Energy-efficient stainless steel appliances
High-efficiency, front load ventless washer & dryer in units
Controlled-access parking garage
See what else makes Jackson Apartments remarkable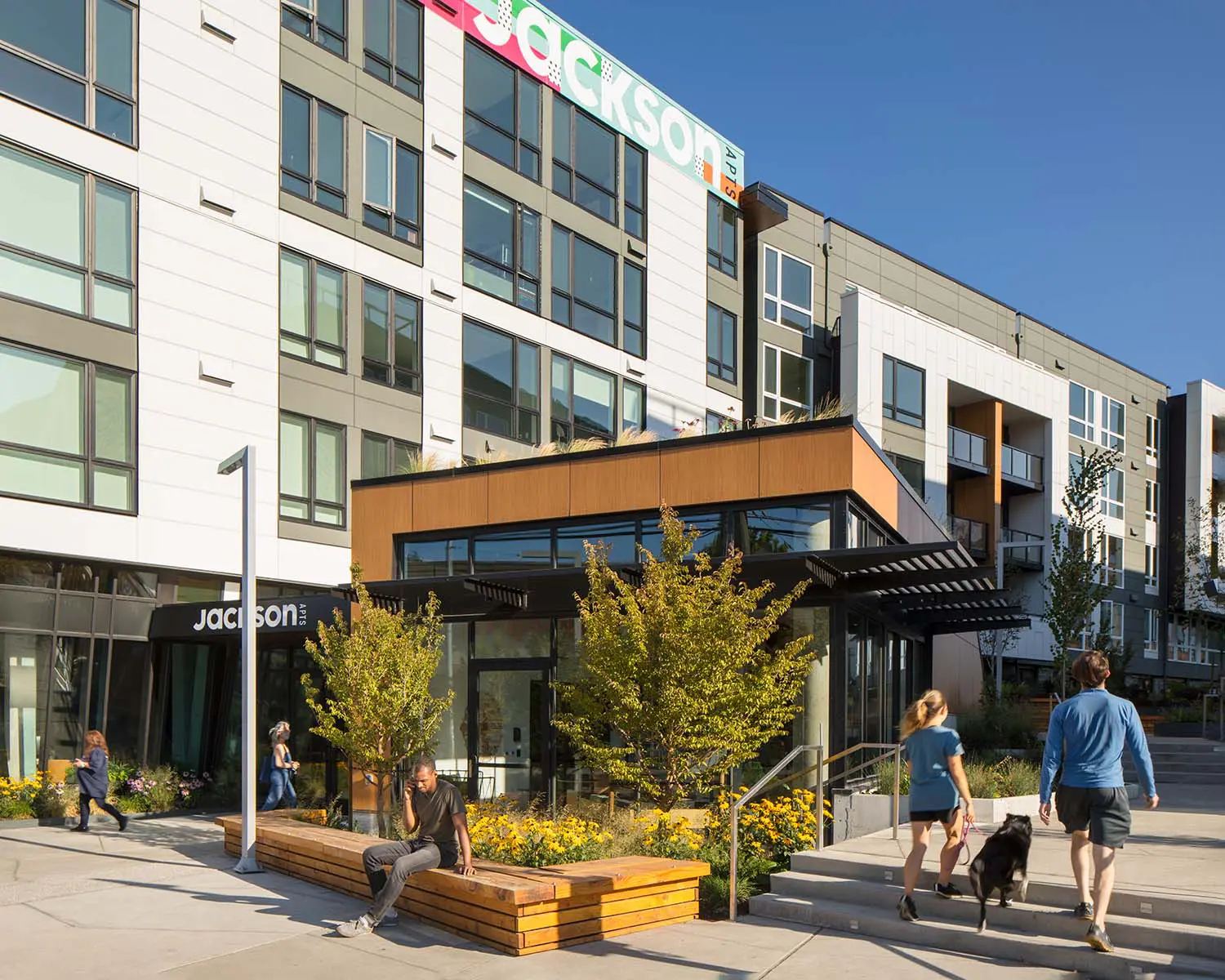 Featured Story
Engaging Community in Inclusive Design
It started with a simple question – What does culture mean to you and your family? This is what Lawrence Pitre asked the children of the Central Area to think about when making the artwork that would adorn the Jackson Apartments construction site.
Learn More
Featured Story
Enhancing Communities Through Thoughtful Retail
Retail businesses are a key component of vibrant, attractive neighborhoods. Curating the right mix of stores, restaurants, and services helps activate the streetscape and creates a sense of community for both patrons and business owners.
Learn More