Over the years, Vulcan Real Estate (VRE) has worked with city government and nonprofit organizations via apprenticeships and job opportunities to create entry points for those commonly left out of the real estate and construction industries. As an owner of real estate assets and a capital investor in one of the fastest growing cities in the United States, we are in a unique position to be an instrument of change through the individuals and companies we hire.
Our Commitment
Our commitment to promoting the participation of women and minorities influences every aspect of the development process from the way we engage with communities and education and training programs to the procurement of subcontractors and vendors. Through partnerships with organizations like the Seattle Housing Authority (SHA), Tabor 100, and ANEW, VRE is committed to providing companies and individuals from disadvantaged backgrounds greater opportunity to participate in development projects.
We are committed to providing greater opportunities
Tabor 100
Our work with minority subcontractors and businesses started fifteen years ago when we began partnering with Tabor 100, a nonprofit committed to business development, economic empowerment, educational excellence, and social equity for minorities and the community at large. Our support for Tabor 100 has allowed us to reach dozens of minority businesses of all sizes and industries who have contributed to our developments as subcontractors, caterers, security, and more.
Meet-and-greet events with Tabor 100's network of businesses have resulted in millions of dollars in opportunities on VRE projects. For example, twenty one percent of our Yesler projects' (Batik and Cypress) subcontract value was awarded to Women- and Minority-Owned Business Enterprises (WMBEs). At our Jackson Apartments project, WMBEs were awarded thirty four percent of the subcontract work.
One of VRE's most noteworthy collaborations with Tabor 100 was the Minority Business Expo where vendors were given the opportunity to showcase their products and services and expand their network. The event helped them gain access to new clients and exposed them to new bid opportunities they might otherwise have missed.
Anticipating the challenges black-owned businesses would face recovering from the COVID-19 pandemic, Tabor 100, with the support of Vulcan Inc., launched the Black Business Equity Fund (BBEF) in the fall of 2020. With the capital contributed by Vulcan Inc. and other major Seattle corporations, half of the BBEF will offer financial support to select black-owned businesses, and the other half will fund training, technical assistance, and programming and build organizational capacity for Tabor 100 and the Tabor Economic Development Hub.
ANEW
Developing in Seattle's Yesler neighborhood was instrumental in the creation of our inclusion and diversity agenda by initiating partnerships with job training and apprenticeship programs. VRE's agreement with SHA to purchase the three parcels where our Batik and Cypress multifamily projects are located included specific goals for using WMBEs and apprentices. To fulfill these goals, VRE strategically partnered with ANEW, a nonprofit pre-apprenticeship program with a unique and successful reputation for training people to enter the construction industry. ANEW's relationships with area construction firms brought trainees participating in the nonprofit's pre-apprenticeship program and apprentices to VRE's jobsites, supplementing the projects' workforce and offering invaluable learning experiences.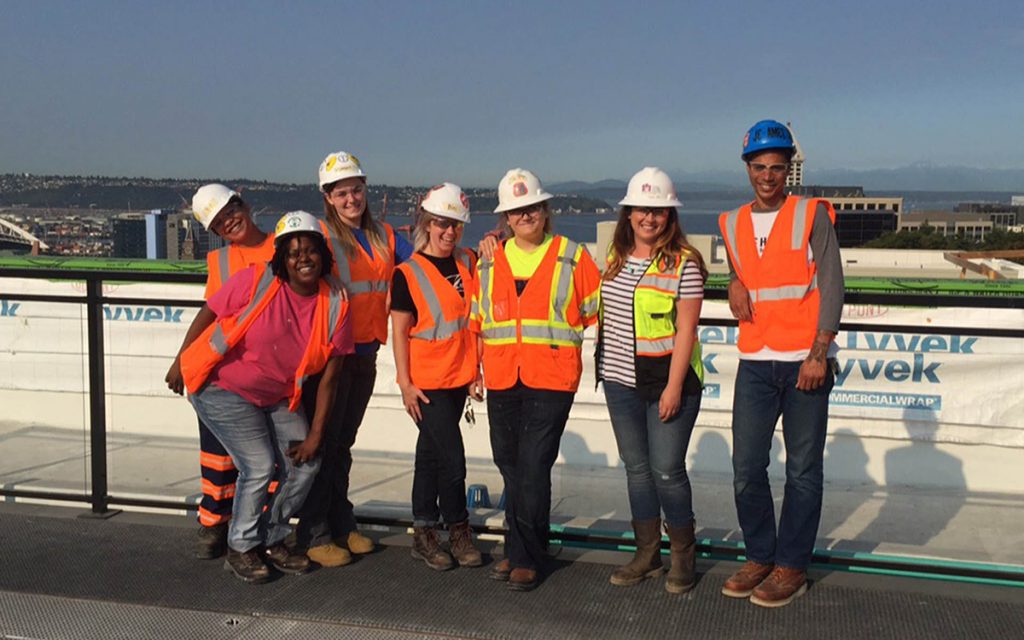 The success of VRE's partnership with ANEW at Yesler galvanized us to create our own voluntary apprenticeship goals for the development of Jackson Apartments in the Central Area. We expanded these goals to include new development projects at 520 Westlake in South Lake Union and 555 Tower and West Main in Bellevue where ANEW's pre-apprenticeship trainees and apprentices are currently at work. ANEW's connections with contractors help improve access for traditionally underrepresented minorities and women to the construction industry by sourcing apprenticeship and other job training opportunities. The organization also implements programs and protocol aimed at making the industry at large more inclusive.
When we create pathways for skilled laborers of female or minority status, we are better able to develop innovative & industry leading places
Setting the Pace for the Industry
Diversity and inclusion will continue to be a guiding principle on each one of our projects, and we hope to set new industry standards through its consistent implementation. Demand for large-scale commercial projects will continue to grow as more people move to the region seeking new job opportunities and the active, dynamic lifestyle that comes with living in the Pacific Northwest. To meet this ongoing demand, we have a real opportunity to leverage our entire workforce and tap into a vast pool of skilled female and minority laborers. When we create pathways for these individuals on our jobsites, we are better positioned to develop innovative and industry leading places where communities can thrive.